Guatemala Cold Storage Installation
Views: 842 Author: Site Editor Publish Time: 2018-05-16 Origin: Site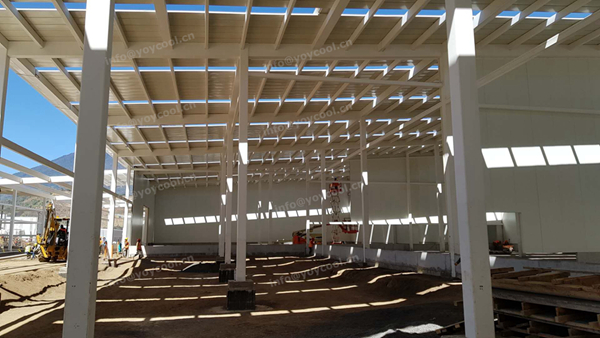 Guatemala Cold Storage Installation
Our guatemala client bought this 41.16m length 15.68m width and 7.35m height cold room from us .As he is professional on cold room , so he has his team to install the cold room .
They begin to install it this month , and i think they can finish it at the end of May.
This time they found a small mistake of the cam lock in just one cold room panel , but easy solved. You can see the picture in the below , the cam lock is in wrong direction .The worker scrapped the PU around the cam lock , and turn it around and inject the PU again .They are well-experienced. And we have have a solution : we don't need scrap the PU , we just need to cut the whole cam lock in a cube , and turn it around and put it back and inject some PU to stick it . that will be a better way.
Everything is good this time . Hope we can have more cooperation in the future.
YOYCOOL IS THE BEST COLD ROOM SUPPLIER IN CHINA . WELCOME TO VISIT US!